She pulls at my heart-
By the string attached to us both before she was born.
And as her umbilical cord grew-
So did that string.
When she was born, the cord was cut
But not our heart string!
It has grown and grown, our heart string-
I am all tangled in it, wrapped up in it, mesmerized by it
made speechless, overwhelmed!
Just one little girl, and what of the other five?
I have so many heart strings, wrapped all around me
Holding my heart so tightly
They take my breath away.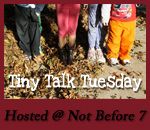 Written for Emmaus. We went on a walk together this morning. She has a dazzling smile and as she ran ahead of me, then looked back to see if I was watching, as her little hand gripped mine, I thought how quickly time has flown, she is over 5 already- she totally pulled at my heart strings! You mommy's will understand!