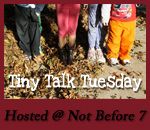 Saturday night, right before bed, Silas had an accident and scraped the inside of his mouth q

uite

badly. He pushed the gums up away from his teeth and broke the frenulum that connected his upper lip to his gums. He was bleeding everywhere and he ended up having to go to the ER.
Before we left

Karagen

(7) said:
"Mommy, we need to pray that Silas won't die, and that the roads will not be

icy

." It was very interesting to me that the roads were clear on our way there, and drifted and icy on our way home. God hears the prayers and faith of children!
We have a wonderful 2 car garage and the children love to go there and play when it is too cold to play outside. Vaughn (6) really wanted someone to play out there with him one day and I overheard him saying to Silas: "Silas I NEED you!" He was very convincing. : )
Emmaus (4 1/2) loves to pretend to be a princess. She received some princess dresses for Christmas and loves them. She had them on one day and she came and told me this: "Mommy, I'm trying to be a princess, but he won't dance with me!"
Silas (3) is the biggest rascal of the bunch. I was giving him a piggy back ride and went to put him down and he said : "No I want another piggy bank ride!" I told him he would have to go get some money from his piggy bank to pay for his piggy bank ride. haha